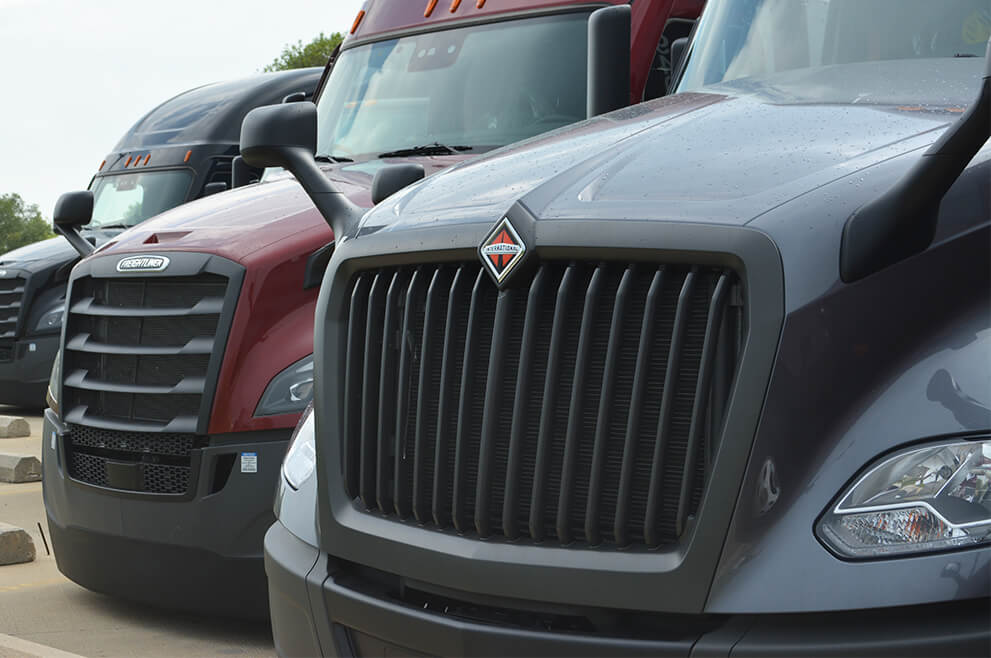 Thinking about leasing with SFI Trucks?
Hear what our current clients have to say about their experience leasing a semi-truck from us:

"I like working with SFI because they are straight up."
Michael | Charlotte, NC | 20 years with SFI | Eight trucks with SFI
"You know the terms going into your lease. If you have any issues, you can call your account administrator and they will help you work through them. I've had new trucks eight times, and the equipment has always been good. SFI is an easy way to lease a truck."

"SFI provided me with an opportunity to create and build a legacy of success."
Kristen | Green Bay, WI | One year with SFI | One truck with SFI
"I've had an excellent experience with SFI. From the very beginning of the process, my account administrator has been wonderful. He explained everything that was needed. The trucking industry can be unpredictable, but I have a trusted business partnership with SFI. That partnership helps me reach my goals with assurance."

"SFI and my account administrator get a 10/10 from me."
Latoy | Charolette, NC | Eight years with SFI | Two trucks with SFI
"I have purchased one truck and am currently in my second truck with SFI. They have been wonderful to me. My account administrator is a true delight. From day one nearly eight years ago, he's been there for me. He answers all my questions – real or hypothetical. He gives useful information and sometimes goes a step further to help me succeed."

"The SFI team has been there for me from day one to provide options, guidance and communication."
Rodger | Phoenix, AZ | Two years with SFI | One truck with SFI
"SFI's maintenance team has always been responsive – with minimal down time – and always looks for opportunities to help the owner-operator save time and money. This is a very intimidating experience for an owner-operator, and my account administrator really tailors the relationship to the needs of the client. During any given situation, good or bad, she is very empathetic. She provides options so an owner-operator can continue their business and meet their family needs."

"My Account Administrator is great."
LC | Charlotte, NC | One year with SFI | Two trucks with SFI
"When one of my trucks broke down, they were able to get me moving in a rental. The maintenance team was there when I needed them the most and worked with me to get things completed. The program is great."
Your time is now!
Now that you've heard it from some of our clients, it's your turn to take your trucking career to the next level. Fill out an application, and an Account Administrator will be in touch about next steps.
Apply now